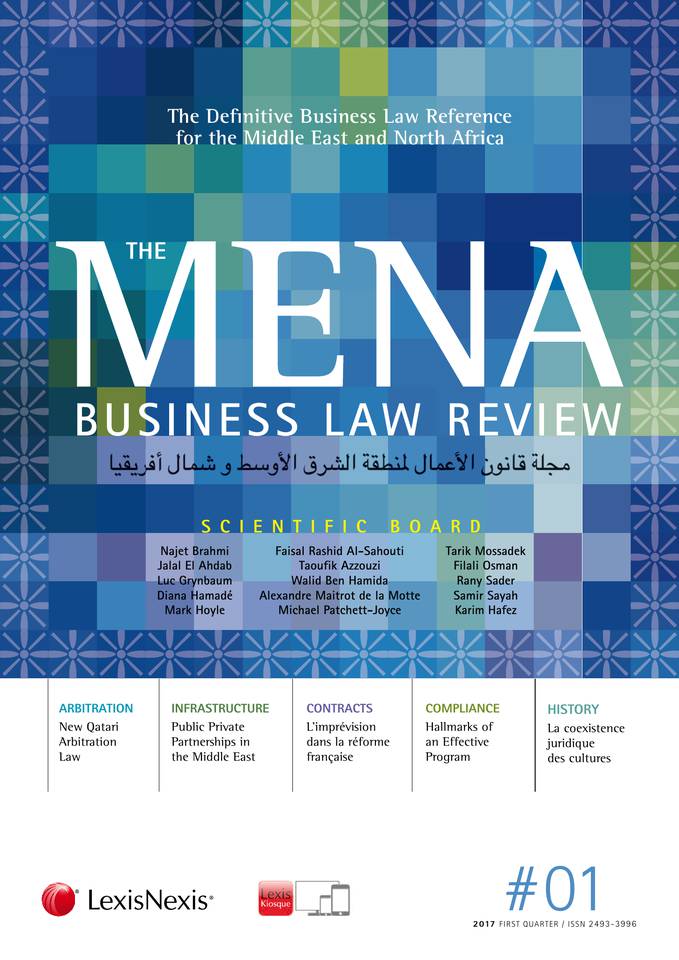 MENA Business Law
N°1 - mardi 24 janvier 2017
Extrait
Sommaire
LOOKING BACK, ONE YEAR ON
Dear Readers, Chers lecteurs, En une année, la MENA Business Law Review s'est indéniablement inscrite dans le quotidien des juristes de la zone MENA This first issue of 2017 also marks the first...
En lire plus
N°1 - 24 janvier 2017
EDITORIAL
LOOKING BACK, ONE YEAR ON
Dear Readers, Chers lecteurs, En une année, la MENA Business Law Review s'est indéniablement inscrite dans le quotidien des juristes de la zone MENA This first issue of 2017 also marks the first...
LEGAL ROUND UP Spotlight
Overview of the New Qatari Arbitration Law
The long-awaited Qatari Arbitration Law has fi nally been promulgated. Inspired by the well-tested UNCITRAL Model Arbitration Law (revised in 2006) ("the Model Law"), it constitutes a sound and...
LEGAL ROUND UP News
United Arab Emirates
Law On Mortgaging Movables Issued The President of the United Arab Emirates, HRH Sheikh Khalifa Bin Zayed Al Nahyan, has issued Federal Law No. 20/2016 On Mortgaging Moveable Properties as Security...
Saudi Arabia
Wejdan Saleh Al SagheerLegal Counsultant The Law Firm of Majed M. Garoub An Overview of the New Saudi Corporate Law The new Corporate Law of Saudi Arabia was issued by Royal Decree No. M/3 dated...
FEATURES
Corporate Compliance Programs: Hallmarks of an Effective Program
As regulators have highlighted, an "effective compliance program is a critical component of a company's internal controls and is essential" to detecting and preventing violations of the anti-...
Public Private Partnerships (P3s) and Infrastructure Development in GCC Countries: Trends, Limitations and Ways Forward
This article provides a simplified analysis of the role, potential and limitations of the public private partnership (P3) model as a contractual arrangement for financing infrastructure projects in...
Cybersecurity in Qatar: a Legal Framework and New Governance Model1
Cyberspace is considered the fifth field of conflict after land, sea, air and space, thus holding an ever-important place in our society. Such nerve centres of increasing interconnectedness therefore...
La sécurité juridique et le rôle des tribunaux
Il est aujourd'hui incontestablement établi que le développement passe pour une priorité majeure de l'Etat. En Tunisie, cette priorité est telle que le législateur s'est engagé dans une voie de...
L'imprévision dans la réforme du droit français des contrats : quelles distinctions avec les pays du Moyen-Orient ?
Adoptée le 10 février 2016, l'ordonnance portant réforme du droit des contrats, du régime général et de la preuve des obligations est entrée en vigueur le 1er octobre 20161. Attendue de longue date,...
HISTORY
Quelques propos sur la coexistence juridique des cultures1
Cet article met en lumière les liens anciens et intenses qui unissent l'Université de Lyon III Jean Moulin à l'Université Saint-Joseph de Beyrouth. Un aperçu des systèmes juridiques des États du...
RULE OF LAW
The A2DC: the First Global Network for Continental Law
In a globalized economy, openness to others remains a blessing, and the encouragement of trade, a virtue. And because law is a major economic lever for change, it now seems necessary to establish...
UNIVERSITY
Lawyers Studying Abroad: a View from the University of Florida's LL.M. Program
Although we usually think of law as the law of one jurisdiction, such as a nation-state, the world of legal practice is quickly becoming globalized. Especially in business law, but also in fields such...
LEGAL EVENTS
Legal Conferences
UNITED ARAB EMIRATES 8 May 2017 Dubai Recent Developments in International Arbitration Globally and in the UAE The DIFC Academy of Law and LexisNexis organise an evening seminar, with special guest...
LexisNexis on the Ground
UNITED ARAB EMIRATES 22 February 2017 Dubai Inaugural AOL Conference on DIFC Law Nearly 50 professionals attended the inaugural conference on DIFC Law organised by the DIFC Academy of Law, LexisNexis...
Merci
Vous venez de consommer 1 crédit. Il vous reste crédit(s).