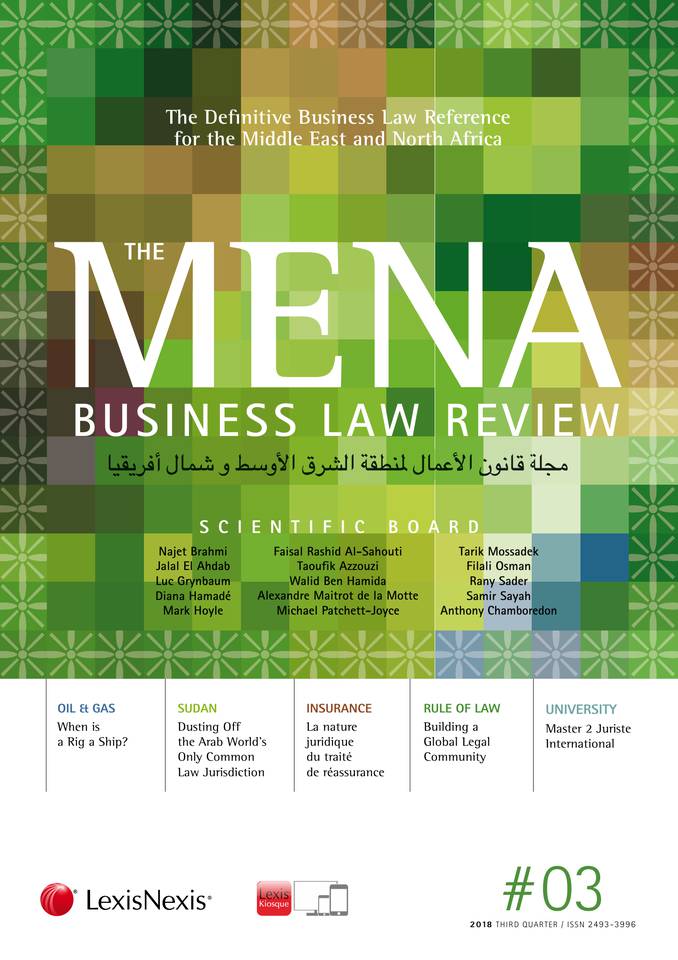 MENA Business Law
N°3 - dimanche 16 septembre 2018
Extrait
Sommaire
THE FUTURE OF ARAB LAWYERS
For the third issue of this year, the editorial team of MENA Business Law Review is pleased to present readers with what is once again a rich and diverse edition. Le marché du droit évolue. Les...
En lire plus
N°3 - 16 septembre 2018
EDITORIAL
THE FUTURE OF ARAB LAWYERS
For the third issue of this year, the editorial team of MENA Business Law Review is pleased to present readers with what is once again a rich and diverse edition. Le marché du droit évolue. Les...
INTERVIEW5
The Future According to Essam Al Tamimi
The business of law is changing, and Arab lawyers and law firms are trying to keep up... or in some cases, are taking the lead. In the weeks leading up to the 4th Arab Lawyers Forum in Rome on the 5th...
Spotlight LEGAL ROUND UP
When is a Rig a Ship?
The identification of an object as a ship or otherwise may seem like an obvious point, but the implications can be substantial from a legal perspective. If an object is identified as a ship or a...
Gulf Cooperation Council Countries
Will the GCC's Banks Follow the Global Trend Towards Arbitration? Until relatively recently, and perhaps surprisingly, the growing trend for arbitration as the "go to" means of resolving international...
United Arab Emirates
Protect Yourself by Modifying Your Status A New Chapter for Thousands of Visa Violators? The UAE Government has introduced an amnesty programme that allows illegal residents in the UAE to regularise...
Saudi Arabia
70% Increase in Commercial Judgments This Year The Saudi Ministry of Justice monthly statistical report shows an increase in the total number of commercial court judgments. The number of judgments has...
FEATURES
Legal Libyans for a Lawful State: A Glimpse into Libya's Legal Provisions and Practices - Past and Present
Libya's original UN-commissioned Constitution and Declaration of Independence were both implemented within the mere space of two years, between 1949 and 1951. 60 years on, the political change brought...
Insight into Sudan's Legal System: Dusting Off the Arab World's Only Common Law Jurisdiction
Like most countries that were once British colonies, Sudan has inherited its modern legal system from the English law. However, some researchers, because of the influence of Sharia law (also known as...
The New FIDIC Red Book under Qatar Law
In December 2017, FIDIC launched its Second Edition of the Red, Yellow and Silver Books, with changes to most sub-clauses for each book. However, these new editions do not address some of the...
Quels outils juridiques et quels schémas contractuels pour le développement du secteur ferroviaire au Maroc ?
La mise en exploitation commerciale d'une ligne à grande vitesse reliant Tanger à Casablanca, prévue à la fin de l'année 2018, devrait faire du Royaume du Maroc le premier pays en Afrique à disposer...
Le contrat international de construction1
Il faut se rendre à l'évidence : malgré l'existence de projets d'envergure internationale, les ouvrages2 qui traitent du droit de la construction, entendu comme le droit qui prend en charge les...
La nature juridique du traité de réassurance
La réassurance est une activité économique très particulière tendant à prendre en charge une partie des risques dépassant les capacités de rétention des assureurs, leur permettant ainsi d'améliorer...
RULE OF LAW
Building a Global Legal Community: The Story of a Canadian Law Student in Dubai
INTERVIEW WITH VIVA DADWAL McGill University Faculty of Law's inaugural clerkship student at the DIFC Courts. An "intellectual partnership" as described by the DIFC Courts... Champions of legal...
UNIVERSITY
Master 2 Juriste International : un exemple de coopération France-Liban*
En raison de la globalisation croissante des professions juridiques, d'un marché du travail hautement concurrentiel, et d'une nécessité d'internationalisation des compétences professionnelles des...
LEGAL EVENTS
Legal Conferences
ITALY 7-12 October 2018 Rome Annual Conference of the International Bar Association (IBA) LexisNexis® is pleased to be the Official Corporate Sponsor of this year's IBA Annual Conference in Rome at...
LexisNexis on the Ground
University Degree in Domestic and International Arbitration Law co-headed by Professor Carine Jallamion and Caroline Duclercq, partner Altana Law Firm, in collaboration with the CDE and the FNDE....
Merci
Vous venez de consommer 1 crédit. Il vous reste crédit(s).