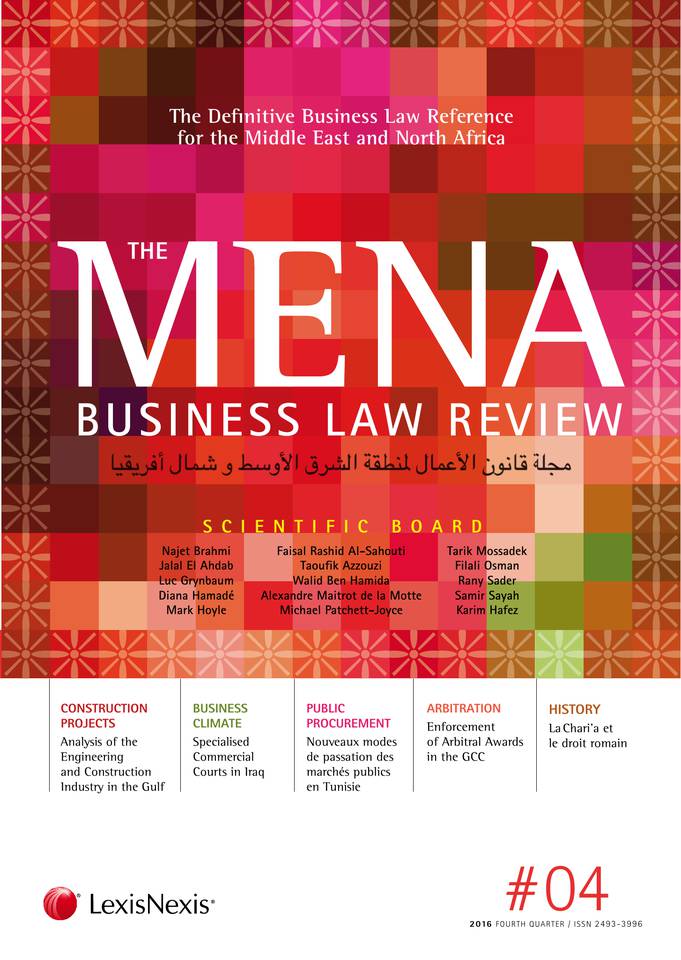 MENA Business Law
N°4 - jeudi 16 février 2017
Extrait
Sommaire
THE MENA BUSINESS LAW REVIEW IS NOW ENTIRELY TRILINGUAL
This last issue of the year 2016 seeks once again to reflect the legal and economic dynamism of the zone Ce dernier numéro de l'année 2016 se veut, une fois de plus, le reflet du dynamisme juridique...
En lire plus
N°4 - 16 février 2017
EDITORIAL
THE MENA BUSINESS LAW REVIEW IS NOW ENTIRELY TRILINGUAL
This last issue of the year 2016 seeks once again to reflect the legal and economic dynamism of the zone Ce dernier numéro de l'année 2016 se veut, une fois de plus, le reflet du dynamisme juridique...
INTERVIEW
What is Dispute Avoidance?
With numerous construction and engineering projects running in the MENA region, commercial alternative dispute resolution (ADR) is gaining ever increasing support. Traditional methods for resolving...
LEGAL ROUND UP
The New Saudi Center for Commercial Arbitration
The new Saudi Center for Commercial Arbitration (SCCA) opened in Riyadh in October 2016. The opening marks a further significant step for commercial dispute resolution in the Kingdom of Saudi Arabia...
Gulf Cooperation Council Countries
New Unified Penal Code to be Finalised by March 2017 The Gulf Cooperation Council countries are planning to introduce a new Penal Code in 2017 which will be implemented in all member States, including...
United Arab Emirates
New Medical Liability Law Passed The United Arab Emirates' President, Khalifa Bin Zayed Al Nahyan has issued Federal Decree Law No. 4/2016 On Medical Liability. The new Law was published in the...
Saudi Arabia
Authorities Prohibit Heads of Tribes and MPs from Settling Disputes Khalid Al-Faisal (advisor to the Saudi Arabian King and Prince of Mecca) has issued directives requesting heads of tribes and...
FEATURES
Morocco, an Overview of the Arbitration Law - Time for Reform?
As 2017 will mark the 10th Anniversary of the first Moroccan Arbitration Law, this Article provides an overview of the legal framework for arbitration in Morocco and introduces the reader to the...
Building on Solid Foundations: an Analysis of the Engineering and Construction Industry in the Gulf
During the last decade, Gulf countries have invested significantly in infrastructure projects. The scale and complexity of certain projects, particularly in the rail and airport sub-sectors, have...
Les nouveaux modes de passation des marchés publics en droit tunisien
Après une auto-évaluation de son système de passation des marchés publics selon la méthodologie OCDE-CAD, la Tunisie a adopté un nouveau décret régissant les marchés publics. Sans qu'il y ait eu une...
La pratique de la « due diligence » juridique dans les opérations d'introduction en bourse sur le marché boursier marocain
L'introduction en bourse d'une société est un évènement exceptionnel dans sa vie sociale et pour ses actionnaires. A cette occasion, il apparaît de plus en plus important de livrer aux investisseurs...
Specialised Commercial Courts in Iraq
As Iraq seeks to reconstruct its infrastructure after decades of war and neglect, foreign investment and foreign technologies are critical for the completion of projects to a standard deserving of the...
HISTORY
Le rapport entre la Chari'a et le droit romain1
L'étude du rapport de la Chari'a avec le droit romain est délicate, une grande polémique ayant opposé les chercheurs à ce sujet, certains ayant estimé que la Chari'a a été influencée par le droit...
RULE OF LAW
The Protection Project
The Protection Project (TPP)1 is a human rights research and training institute based within the Foreign Policy Institute at The Johns-Hopkins University School of Advanced International Studies in...
UNIVERSITY
Salé College of Law Mohammed V University, Morocco
This article was produced thanks to the kind contribution of Khalid Hammes (Dean), Mustapha Machrafi (Vice-dean), and Jamal Rbii (Professor) The College of Legal, Economic and Social Sciences of Salé...
LEGAL EVENTS
Legal Conferences
QATAR February 2017 Doha Law and Sports: Current and Future Trends As Qatar 2022 World Cup is only a few years ahead, Qatar University organises a conference focusing on sports law. For more...
LexisNexis on the Ground
CASABLANCA 4-5 November 2016 The Lawyers' Role in the Energy Transition Process A few days before the opening of the COP22 in Marrakech (7-18 November), LexisNexis and IKONE Conseil organised, in...
Merci
Vous venez de consommer 1 crédit. Il vous reste crédit(s).