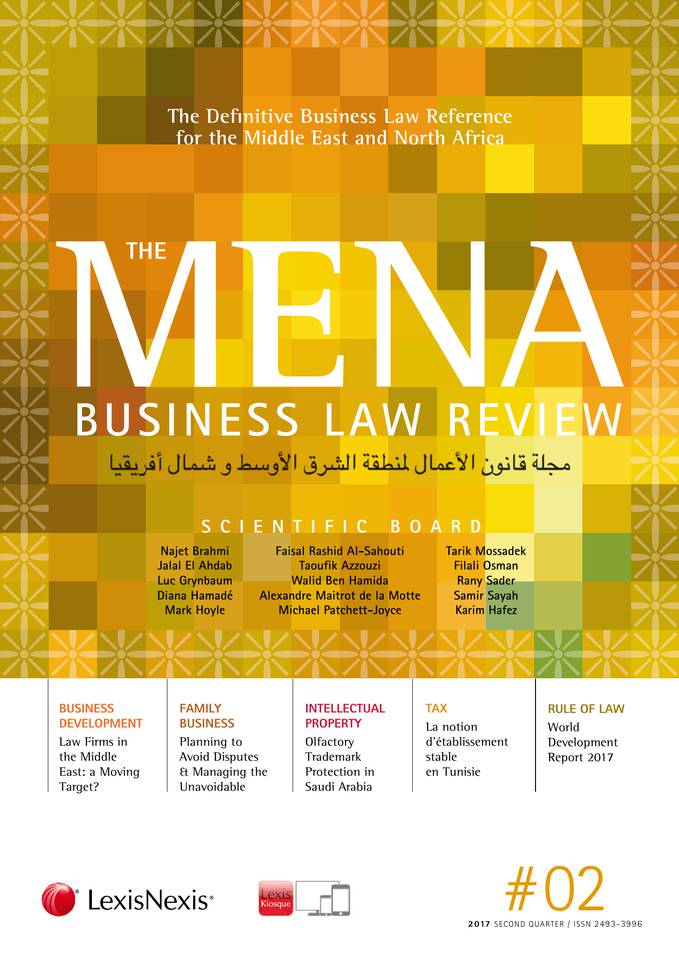 MENA Business Law
N°2 - vendredi 24 mars 2017
Extrait
Sommaire
GLOBAL DEVELOPMENT AND THE RULE OF LAW
Dear Readers, Chers lecteurs, La faiblesse et la déficience gouvernementales empêchent un développement équitable et pérenne At the beginning of the year, the World Bank published its 2017 annual...
En lire plus
N°2 - 24 mars 2017
EDITORIAL
GLOBAL DEVELOPMENT AND THE RULE OF LAW
Dear Readers, Chers lecteurs, La faiblesse et la déficience gouvernementales empêchent un développement équitable et pérenne At the beginning of the year, the World Bank published its 2017 annual...
INTERVIEW
The Evolution of the Legal Profession in Qatar
Established in 1999 by Sultan Al-Abdulla, one of Qatar's most experienced and respected lawyers, law firm Sultan Al-Abdulla & Partners, based in Doha, comprises four partners and 15 lawyers from...
LEGAL ROUND UP Spotlight
Business Development for Law Firms in the Middle East: a Moving Target?
he Middle East has long been a target for entrepreneurial lawyers. Spotting a flourishing region rich in natural resources and attendant wealth, law firms flocked here by the dozens in the late 1990s...
LEGAL ROUND UP News
Gulf Cooperation Council Countries
The Uncharted Terrain of VAT in the Gulf Region Gian Miranda Paralegal Sultan Al-Abdulla & Partners The global decline and partial recovery of oil prices has highlighted to the Arabian Gulf nations...
United Arab Emirates
Drone Regulations Approved The UAE's Emirates Authority for Standardisation & Metrology has approved new regulations on the commercial and recreational use of drones in the country, including...
Saudi Arabia
Saudi-US Trade Relations Relations between the USA and Saudi Arabia have been long-standing for more than 80 years, going back to when an American company was granted a permit to prospect for oil in...
FEATURES
A Closer Look at Dubai Decree No. 19 of 2016
Government of Dubai Decree No. 19 of 2016 On The Formation of the Judicial Committee for the Courts of Dubai and the Courts of the Dubai International Finance Centre came as a surprise in the middle...
Family Business Empires: Planning to Avoid Disputes and Managing the Unavoidable
Family businesses in the Middle East are often complex, multi-faceted, multimillion dollar enterprises yet they maintain the essential elements of the family business, being family owned and family...
Olfactory Trademark Protection in the Kingdom of Saudi Arabia and the Arab States of the Gulf
Imagine you are in the office and fancy a coffee or burger delivered to your desk. You visit the requisite websites to place an online order and are instantly hit by the aroma of freshly roasted...
The Future for Dispute Resolution in Construction and Engineering
Over the past two decades, the financial cost of disputes in the global construction industry has reached billions of dollars. According to the Arcadis Middle East Construction Disputes Report (2016),...
Le contrat de travail des salariés étrangers au Maroc
De plus en plus d'étrangers songent à venir travailler au Maroc, notamment depuis la crise ayant frappé l'Europe, l'instabilité de certains pays d'Afrique du nord et depuis la régularisation de la...
La notion d'établissement stable en Tunisie1
La législation fiscale tunisienne consacre le principe de l'approche territoriale en ce qui concerne l'impôt sur les sociétés. Ainsi, une entreprise dont le siège central est situé à l'étranger est...
RULE OF LAW
The Intricacies of the Rule of Law Through the Lens of the World Bank
The 2017 World Development Report published by the World Bank concerns governance and the law1. The report addresses essential questions regarding development and how to feasibly invoke positive...
UNIVERSITY
Master Droit des échanges euro-méditerranéen
Lancé en septembre 2016, le Master Droit des échanges euro-méditerranéens (Master DEEM) a pour ambition de former des juristes de niveau supérieur spécialistes des questions de droit international,...
LEGAL EVENTS
Legal Conferences
UNITED ARAB EMIRATESApril-November 2017 Dubai Certificate in Human Resource Law & Practice The DIFC Academy of Law and LexisNexis, in association with Stephenson Harwood Middle East LLP organise a...
Arbitration in France and the UAE: a Comparative Approach
Al Tamimi & Company, the largest firm in the Middle East with 330 lawyers, 17 offices in 9 countries, organized a conference on Tuesday 28 March, 2017 in partnership with LexisNexis Middle East and...
LexisNexis on the Ground
UNITED ARAB EMIRATES 20 March 2017 Dubai LexisNexis Celebrates its Authors LexisNexis celebrated some of its leading authors and editorial contributors in the Middle East at a cocktail reception at...
Merci
Vous venez de consommer 1 crédit. Il vous reste crédit(s).