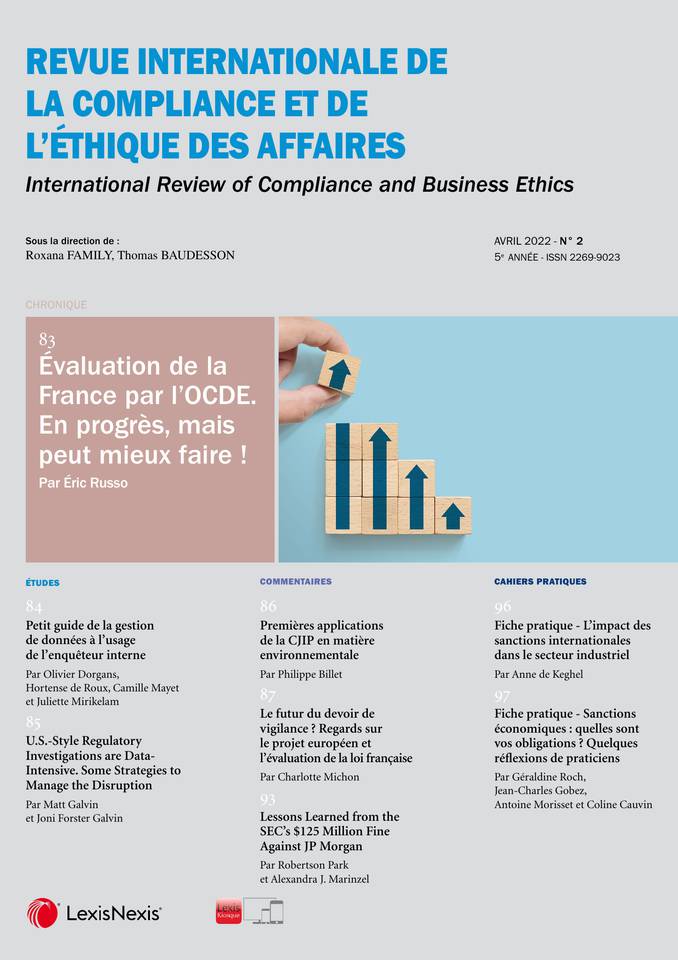 Revue internationale de la compliance et de l'éthique des affaires
N°2 - avril 2022
Extrait
Sommaire
Comité scientifique / Scientific Committee
Chantal Cutajar, maître de conférences, Université de Strasbourg ; Björn Fasterling, responsable du Département Droit, professeur, EDHEC ; Sean Griffith, Professor & Director of Corporate Law Center,...
En lire plus
N°2 - avril 2022
LES AUTEURS DE CE NUMÉRO
Comité scientifique / Scientific Committee
Chantal Cutajar, maître de conférences, Université de Strasbourg ; Björn Fasterling, responsable du Département Droit, professeur, EDHEC ; Sean Griffith, Professor & Director of Corporate Law Center,...
LES AUTEURS DE CE NUMÉRO
Yanisse Benrahou, doctorant, Université Paris-Nanterre, Fleurus Avocats. Philippe Billet, professeur agrégé de droit public, Université Jean Moulin - Lyon 3, directeur de l'Institut de droit de...
Comité d'experts/Advisory Committee
Charles-Henri Boeringer, avocat à la Cour, associé, Clifford Chance ; Nicola Bonucci, Partner, Investigations & Compliance Paul Hastings (Europe) LLP ; Hui Chen, Ethics & Compliance Advocate, Speaker,...
ÉDITO
49À qui la décision ? À qui la responsabilité ?
L a responsabilité sociétale des entreprises (RSE) n'a jamais connu autant d'évolutions en si peu de temps. Tout prouve, s'il en était besoin, que ses avancées se mesurent à l'aune des phénomènes de...
CHRONIQUE
83 Évaluation de la France par l'OCDE En progrès, mais peut mieux faire !
Since ratifying the OECD Anti-Bribery Convention on 29 September 2000, France has been repeatedly criticised for the shortcomings with the implementation of its provisions. The 2012 « phase 3 »...
ÉTUDE
84 Petit guide de la gestion de données à l'usage de l'enquêteur interne
Data collection and disclosure in the context of an internal investigation with extraterritorial implications is a key issue, whether the investigation is or may be subject to legal proceedings....
85 U.S.-Style Regulatory Investigations are Data-Intensive Some Strategies to Manage the Disruption
Si les pratiques passées sont révélatrices d'un comportement futur, il est raisonnable de prévoir que les régulateurs américains poursuivront leurs enquêtes contre les multinationales européennes...
COMMENTAIRES
86 Premières applications de la CJIP en matière environnementale
In order to facilitate the criminal settlement of environmental offences, the Law No. 2020-1672 dated 24 December 2020 on the European Public Prosecutor's Office, environmental justice and specialised...
87 Le futur du devoir de vigilance ? Regards sur le projet européen et l'évaluation de la loi française
Aduty of vigilance extended to ETIs, the activities of established commercial relationships covered, monitoring by a dedicated authority and the possibility of engaging civil liability seem to be the...
88 Maîtriser les risques d'atteinte à la probité en matière de mécénat L'AFA publie un nouveau guide d'utilité publique
On January 31, 2022, the French Anti-Corruption Agency published a guide on the prevention of corruption in the context of donation operations. This document is addressed to all the stakeholders and...
89 Prévenir la corruption dans le BTP L'AFA publie son premier guide sectoriel
On February 18, 2022, the French Anti-Corruption Agency published a guide dedicated to construction and public works. This document is in line with the ambition of adapting its advices and lets us...
90 La définition du lanceur d'alerte, une notion en constante évolution
Solution. - In a decision dated January 19, 2022, the Court of Cassation upheld the invalidity of an employee's dismissal for having reported in good faith to facts likely to characterize a breach of...
91 Réglementations sanctions économiques américaines, européennes et britanniques Secteurs d'activités et impacts opérationnels
Following the invasion of Ukraine by Russian armed forces in February 20221, the European Union, the United States, and the UK followed by several other states (including Canada, Australia and Japan)...
92 CJEU Offers Initial Guidance on the Application of the EU Blocking Statute
Solution. - Le 21 décembre 2021, la Cour de Justice de l'Union européenne, siégeant en grande chambre, a rendu un arrêt dans l'affaire Bank Melli Iran v. Telekom Deutschland apportant des premières...
93 Lessons Learned from the SEC's $125 Million Fine Against JP Morgan
La Securities and Exchange Commission (« SEC ») des États-Unis a récemment rendu une ordonnance engageant une procédure de cessation et d'abstention contre J.P. Morgan Securities LLC (« JPMorgan »)...
94 Professional Secrecy: Internal Documents Embedding Defense Strategies Elaborated by Outside Lawyers Should Be Protected Now on
Solution. - Des documents internes à l'entreprise - qui n'émanent pas de, ni ne sont adressés à, un avocat - liés à l'exercice des droits de la défense et reprenant une stratégie de défense élaborée...
95 Violence et harcèlement dans le monde du travail
Adopted on the occasion of the centenary of the ILO, Convention No. 190 is the first international treaty to address violence and harassment in the world of work. Recently ratified by France, it...
CAHIERS PRATIQUES
96 L'impact des sanctions internationales dans le secteur industriel
1. CONTEXTE Le thème des sanctions internationales est mis en exergue de manière inédite ces derniers temps avec le conflit russo-ukrainien. Il s'agit d'un levier éminemment politique et complexe...
97 Sanctions économiques : quelles sont vos obligations ? Quelques réflexions de praticiens
1. Contexte Si les dispositifs « sanctions économiques » et « lutte contre le blanchiment et le financement du terrorisme » (LCB-FT) sont très souvent abordés ensemble dans les développements...
Merci
Vous venez de consommer 1 crédit. Il vous reste crédit(s).